Different Ways to Prepare Your Veggies
If you've never considered yourself a "vegetable person," there might be a scientific reason; a recent study showed that certain groups of people are more sensitive to the bitter taste of veggies. But our green friends are packed with antioxidants and nutrients, so even if you have hyper-sensitive tastebuds, the key to adding veggies into your diet might be finding a better way to prepare them. Here are five ways to prepare your produce to make them as palatable as possible.
Stir Fry
A bit of olive oil, a dash of sea salt, and a healthy dollop of garlic make any vegetable taste better! Stir-frying is an easy, convenient, and fast way to eat more vegetables by mitigating that bitter flavor. You know that bag of spinach that you try to choke down in a salad? It shrinks into a tiny little handful after a quick dip in a hot pan and it goes great with steak and potatoes.
Steam
If you need to reduce oils and fats in your diet, steam your vegetables with lots of seasoning and herbs. This method is quick and convenient, but it helps you avoid all that artery-clogging grease. You can easily steam vegetables in a microwave or a rice cooker.
Deep Fry
Though they're not the pinnacle of health, fried vegetables are delicious! The healthiest form of deep-fried veggies is Japanese tempura, which uses a lighter, less-greasy batter than you might use on fried chicken. Veggie tempura pairs perfectly with sushi or a big bowl of udon noodles.
Bake
Make your own healthy chips by baking your vegetables. The best bakeable veggies are those that already pack tons of nutrients, like dinosaur kale. Rip up the leaves by hand, lay the pieces flat on a baking sheet, drizzle with a bit of olive oil, sprinkle some sea salt, and bake at 250 degrees Fahrenheit. Keep an eye on the leaves to make sure they don't burn, and you'll enjoy a crunchy, healthy snack in just a few minutes!
Dipped
You don't always need to bring out the pots and pans to zest up your salad. A little delicious dip is enough to make you want to eat more vegetables. One low-fat, high-protein dip is traditional hummus. Skip the ranch dressing and go straight for this chickpea product. It comes in all sorts of flavors, and a little dollop of hummus is enough to jazz up your salad or vegetable platter without the extra calories.
Recipe:
Cauliflower steaks with chimichurri peas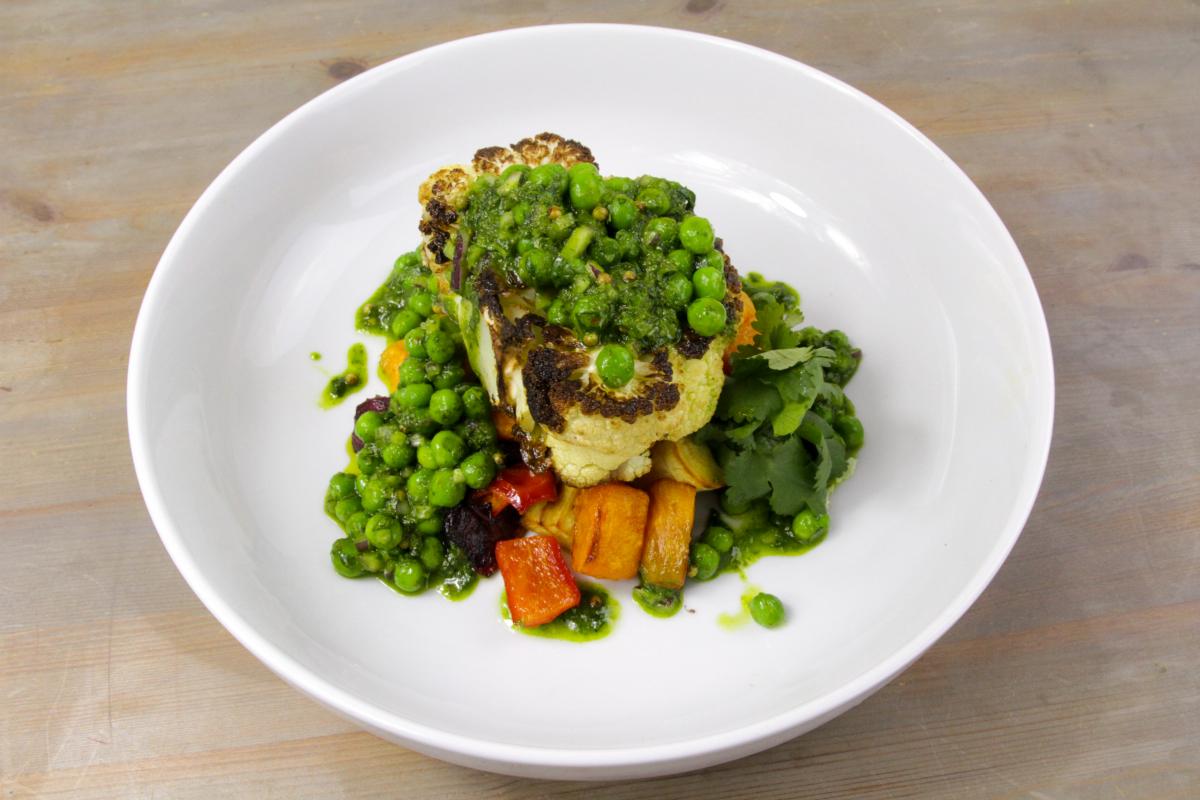 For the chimichurri sauce
2 tbsp water
2 tbsp white wine vinegar
½ tbsp sugar
1 red onion, fine dice
1 tsp coriander seeds
1 tsp caraway seeds
½ tsp dark mustard seeds
1 bunch fresh coriander, chopped
50 g flat leaf parsley, chopped
1 clove garlic
1 green chilli, fine dice
3 tbsp vegetable oil
Black pepper, to taste
For the steaks
1 sweet potato, diced
2 red peppers, diced
1 large carrot, peeled and diced
1 large parsnip, peeled and diced
2 fresh beetroot, diced
1 large cauliflower
Spray oil
Black pepper, to taste
300 g frozen peas
Method
For the chimichurri sauce
In a saucepan, heat together the water, vinegar and sugar until the sugar has dissolved. Add the onion, coriander seeds, caraway seeds, mustard seeds and bring to a simmer. Remove from the heat and allow the flavours to develop. To finish the sauce, add the rest of the ingredients to the onion mix, combine thoroughly and season to taste.
Store in an airtight container in your fridge for up to two days. It's best to make this sauce in advance so the flavours have a chance to develop.
For the cauliflower steaks
Mix together the sweet potato, pepper, carrot, parsnip and beetroot and roast in the oven.
Cut the cauliflower into two 1″ thick steaks, reserving the trimmings for another dish. Spray the steaks with the oil and season.
Heat a large frying pan over a medium heat and add the cauliflower steaks to the pan. Cook the cauliflower until it has coloured well on both sides. You may need to add 100 ml of water to the pan at this stage so the steam cooks the cauliflower through.
When cooked, remove from the pan and add the peas and some chimichurri sauce and heat through. Serve the cauliflower steaks on top of the roast veg and dress with the pea chimichurri.
vegansociety.com
Memphis Square Neck Gaiter Face Cover Washable